Acquirly – Review Generation For Contractors
Increase positive online reviews with a simple, easy to use app that is designed for home contractors to use in the field while engaging customers. With Acquirly you can now get more reviews, guaranteed.
We solve two problems:
Your employees are not asking or forgetting to ask for reviews

Your customers are lazy and don't want to take the time to leave you a review
33 Review Generation standardizes your review acquisition process and allows you to manage your reviews once you've received them.
Collect Customer Reviews In Person
We designed Acquirly to engage your customers in person and ensure you get reviews posted online. Our research shows that when asking for a review in person and using Acquirly you are much more likely to receive a review then if you were to request a review a few days later.
Simplicity
Acquirly was made for home service owners and their teams in mind. No matter how little technical experience you have, you can easily ask for and get customer reviews in two easy to remember steps.
To receive a review with Acqurily:
Ask client if they will leave you a review

Open the app and enter the clients email and telephone

Click "request review" and the rest is taken care of!
Easy for both your team and customers to use
Getting your team to use any new system can be a challenge. However, with our help we can quickly and easily train your team to use it each and every time to ensure you get reviews for you business online.
Get More Reviews
Connect with your customers on Google My Business, Facebook, Yelp, BBB, and more to boost your online presence.
Get More Leads
Having positive reviews improves your listing with search engines and provides prospective clients with the confidence they need to trust your business.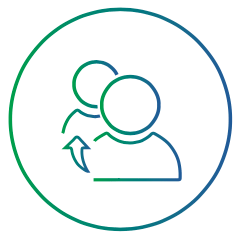 Get More Referrals
With our process in place, the good reviews come pouring in. Customers who leave good reviews will share their recommendations with others.
Standardize Your Process
Asking for reviews has never been easier for your customers AND your employees. When used as intended, Acquirly Review Generation gets results.
Stop Negative Feedback
Get instant notifications of negative reviews and stop them from being posted, allowing you to thank customers and address concerns instantly.
Track Your Reviews
Our review tracking feature not only notifies you of new reviews but also which employees are receiving feedback from your customers.