The Cost of Water Damage Leads: How Much it Costs to Generate Each Water Damage Lead
The number of water damage jobs you get is directly related to the number of water damage leads you get. While you may think there isn't a cost associated with generating leads, you are probably spending more to get those calls than you think. Even if it's just your own time, you can attribute some cost to each water damage lead you generate. However, if you really track your expenses, you might be shocked at the cost of water damage leads. We look at how much it costs to generate water damage leads by yourself, with the help of a marketing pro, when hiring an agency, and when buying water damage leads outright.
4 Common Ways to Market Your Water Damage Business and Get More Restoration Jobs
For most water damage restoration contractors, completing the job is easy. It's often the marketing required to land the job in the first place that's the hard part. Given the nature of restoration, reaching customers in an emergency should be your number one priority. Here are the four most common ways to market your business and generate more water damage leads:
Do-It-Yourself Marketing – You market your own business and pay for your marketing expenses directly regardless of your results.
Hiring a Marketing Professional – You hire a marketing person to manage your marketing campaigns. You not only pay for your ads and expenses, but you also pay them for their services.
Marketing or Advertising Agency – A company markets your business on your behalf. You pay them for their marketing expertise regardless of your results.
Lead Generation Company – A company markets the services your business offers. You only pay when you receive viable leads.
What Are Water Damage Leads?
Water damage restoration leads are opportunities to sell your services. Phone calls are the most common type of leads, but you may also get leads by text message or email. If you're using social media sites to promote your business, you could get water damage leads there too. Any type of message that has the potential to become a job is a lead.
Does Every Water Damage Restoration Lead Turn Into A Job?
Why you may think every phone call or message you get is a guaranteed job, that's not the case. Whether you're managing your own marketing or buying water damage restoration leads, each call is only an opportunity. Most leads will turn into a job, but a few won't turn out.
Methods of Marketing Your Business to Get More Water Damage Jobs
If you're looking to get more water damage jobs, you need more leads. In order to get leads, you need to pick the most effective advertising and marketing strategies for your business. When evaluating your options, it's important to find the right balance of cost, control, and knowledge to keep your business working and profitable.
Modern Media Methods
The advantage of modern media methods is that you can usually track how ads and content perform. In some cases, you can even determine exactly how many calls you got from a specific ad or piece of content.
Paid Search – Paid search ads are the text ads that appear at the top of the results in search engines. In most cases, you bid on keywords or phrases and only pay when customers interact with your ad.
Search Engine Optimization – These are the organic results in search engines. You write content targeting keywords in the hope that customers will call you after reading the article. You either spend time writing the content yourself or pay someone else to do it for you.
Display Advertising – Display ads are better known as banner ads and they appear on many websites. You'll typically pay for a specific number of impressions and possible per click as well. You may also need to pay to design the ads as well.
Local SEO – Like SEO, you optimize your business so that it appears in searches within maps websites and apps. Like SEO, it's technically free, but it can time to make the updates. You also need to claim and manage your business listings.
Social Media – Social media is a favorite for many businesses because they assume social media is free. However, if you really want to reach your audience, you'll need to promote posts or create ads.
Traditional Media Methods
Unlike newer media options, it's much harder to track the performance of traditional media methods. However, traditional media ads remain popular with many companies.
Print Advertising – Print ads include magazines, newspapers, and other publications. The price for ads will depend on the audience and circulation of that publication.
Out-Of-Home Advertising – These are billboards and other poster-size ads that appear in public spaces. Pricing will vary by the size of the ad and the location. You may also need to pay additional fees to create the ads.
Broadcast Advertising – Mass media radio and TV ads provide wide exposure. Ads costs will vary by station, time of day, and length of your ad. You may also need to pay to create your ads as well.
Comparing Ways of Marketing Your Business and Getting More Water Damage Jobs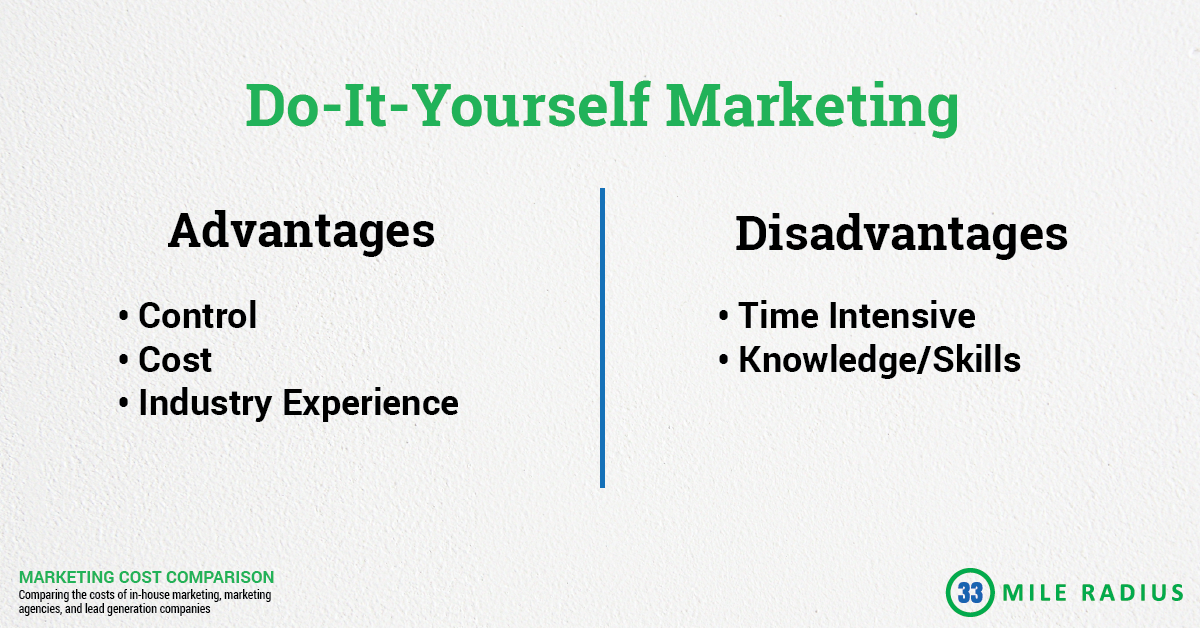 Do-It-Yourself Marketing
Doing your own marketing offers the highest level of control over your campaigns. However, it also requires the most attention to ensure you're properly managing your marketing. Depending on how you are marketing your business, there can be a steep learning curve. You also need to keep up with the latest trends and changing technology.
It can take a while to get your marketing strategy in place, but you'll be able to evaluate and adjust your campaigns easily and efficiently once you do. After you've mastered the basics, you can manage an effective lead generation campaign with as little as 1 to 2 hours of work each week. In many cases, you'll be able to break that up into just a few minutes each day to check on performance and update your campaigns. Creating SEO content may take a little longer.
However, it's important to be patient with your campaigns. A common mistake is making changes too quickly. Even more common is forgetting to manage your marketing completely. This is a sure-fire way to overspend. If you're going to manage your own advertising and marketing, you need to put in the time necessary to see it through.
Hiring a Marketing Professional
If you're looking to maintain a certain level of control, but don't want to handle your marketing directly you could hire a marketing professional. Usually, this involves hiring a full-time employee, but you can also do a part-time contract position as well. With a knowledgeable person managing your marketing, setup should take less time and campaigns should perform better overall.
Hiring a marketing specialist means you have a dedicated person to create and manage your campaigns, but it comes at a higher cost. The GlassDoor national average for a marketing specialist is $67,000 per year, plus benefits. A part-time or freelance marketing person may charge anywhere from $25 to $100 or more per hour.
Aside from the cost of their salary, the other downside of hiring is they may not be familiar with your industry. You may need to train them on the basics of water damage restoration. Be prepared to set aside time to make sure you're making the most of your investment.
Marketing or Advertising Agency
The major appeal of hiring a marketing agency is that you have a team of specialists to take care of things for you. You are paying for their knowledge and skills. They work with you to develop campaigns, write copy, design the creative, and manage your ads.
Costs vary widely from agency to agency and from city to city and price isn't necessarily a guarantee of skill or quality. While every agency wants to be successful for their clients, they are going to charge you regardless of your results.
Most agencies charge by the hour, with hourly rates starting as low as $50 and ranging upward into the hundreds. Some agencies may require a monthly retainer as well, with average rates between $1000 and $3000. Contracts are also common, making it difficult to leave quickly if you aren't satisfied. In addition to their billable hours, you are still paying for your ads as well.
A common complaint about agencies is the lack of transparency when it comes to billable work. While you may receive an itemized invoice, vague figures like 6 hours for design, 3 hours for copywriting, and 1.5 hours for trafficking can be frustrating when you're paying by the hour.
Additionally, agencies aren't always familiar with the services you offer. Good agencies will do market research, but you may need to work closely with them at first in order to ensure their marketing is a good fit for your business. It will likely take time, and money, to develop an effective marketing strategy for your business.
Lead Generation Company
Lead generation companies have the same expertise as an agency. However, they are usually focused on a single industry or a group of related industries. This often gives them an advantage over traditional agencies.
Lead generation companies create, design, and manage campaigns that market your services to a targeted audience. Since their revenue is tied to your own, they have a vested interest in your success.
Keep in mind that these companies advertise the services you offer or market their own brands instead of your business. Given the nature of water damage restoration, someone with a basement full of sewage is probably more concerned with how quickly you can show up. While not every lead will turn into a job, it's likely that the caller needs your services.
Most lead generation companies charge per lead and rates usually vary by location and service. Most disaster mitigation leads range between $275 and $700. Look for a company that only charges for valid leads and has a clearly defined process for handling billing disputes.
Beware of lead generation companies that send leads to multiple water damage contractors at the same time. Only use a lead company that offers exclusive leads. Avoid companies that charge for wrong numbers, have setup or monthly service fees, or require a long-term contract.
Comparing the True Cost of Generating Water Damage Restoration Leads
Cost plays a key role in deciding what marketing strategy to use for most water damage contractors. When comparing costs, remember to include all expenses including wages, advertising costs, retainer fees, and hourly rates.
Unfortunately, there are dozens of variables that can impact the cost of generating water damage leads. To simply our calculations, let's assume that all of the leads were generated using paid search campaigns. For those campaigns, we're using our own average cost per click of $25. We're also basing all our math off of two leads per week.
For the do-it-yourself marketing costs, we assumed that you spent 4 hours a week managing your campaigns. Assuming you make $35 to $40 an hour, we averaged the cost of your labor at $150.
We assumed the GlassDoor estimate of $67,000 for a full-time marketing professional in the hiring a marketing pro scenario. That works out to just about $1290 a week for their salary. In the agency scenario, our math is based around 5 billable hours at $100 each with a $1000 monthly retainer.
For lead generation, we based our rates on an average of $425 per phone lead. Our water damage text leads start at just $75 each, which is actually cheaper than the cost of running your own marketing. Plus, all of our water damage leads are exclusive and never shared with another contractor.
While your costs and results may vary, our figures are based on our industry research. Calculate your own cost per lead by dividing your total yearly marketing cost by the total number of leads.
Which is the Best Way to Get the Most Water Damage Jobs?
Obviously, the best method is the one that gets you the most high-quality jobs for the right balance of time, effort, and money. That could be managing your own marketing, buying flat-rate leads, or using an agency depending on your exact circumstances.
The key to successfully getting more water damage jobs is testing out different strategies and remaining patient as you allow them to play out. For that reason, we always recommend that you commit to at least 10 billable leads that turn into jobs. This gives you a clear picture of what you can expect in the long term.
Get Flat-Rate Water Damage Restoration Leads Starting At $75
Get high-quality, flat-rate water damage restoration leads today. Our exclusive text-based water damage leads are only $75 each, with our phone-based leads start at $350 each. You only pay for valid leads from the homeowner or decision-maker calling about a service you're signed up for in your agreed-upon service area. Plus, you can pause your account or cancel at any time. Get more water damage restoration leads today. Request a free demo of our leads now by filling out the contact form below or call a href="tel:18885948381″>888-594-8381 to speak with our business development team.